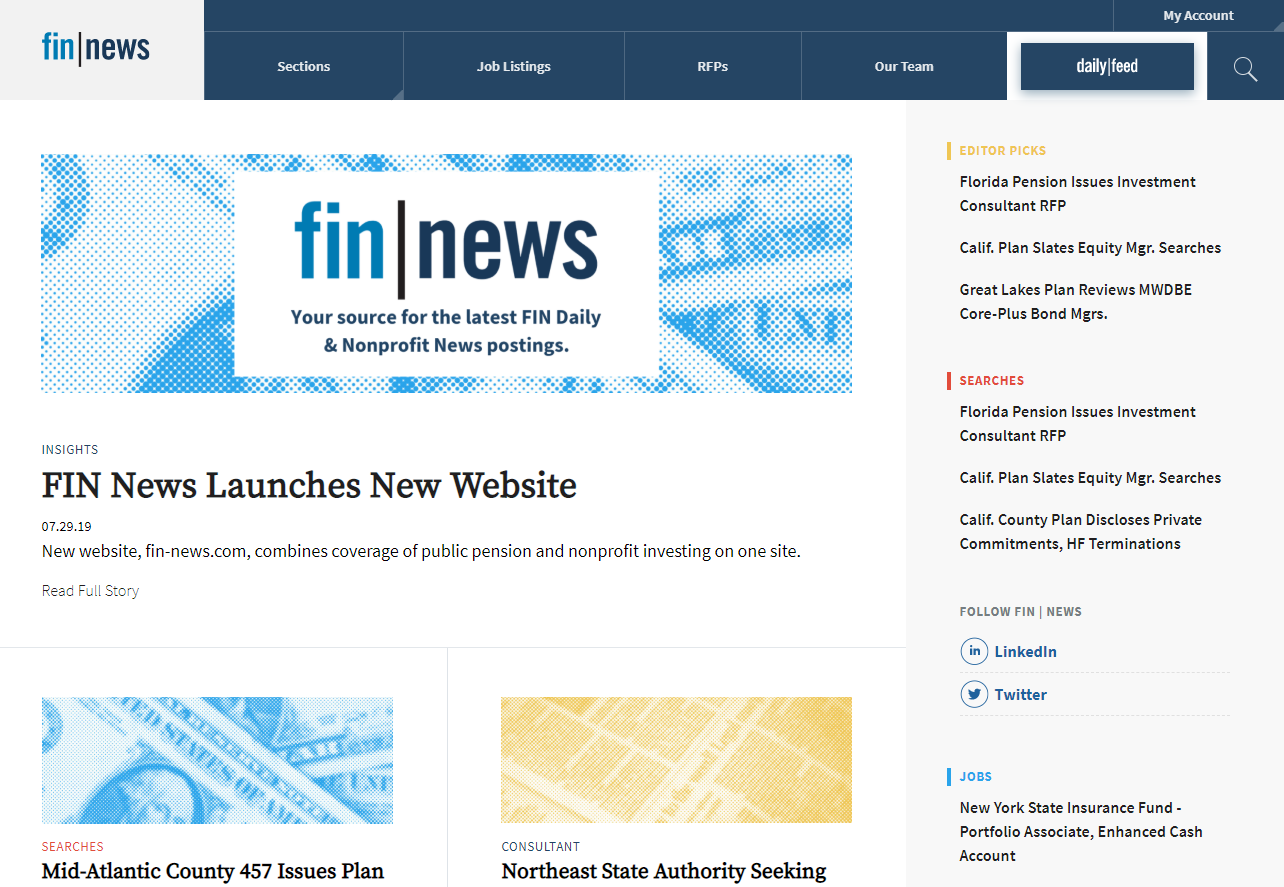 Industry-leading resource for the institutional asset management space
Our website and email alerts are consumed each day by an audience of thousands of investment professionals. Our readers span from asset management firms to consultants, plan sponsors and more. Many of these readers are in high level positions ranging from owners, executives, partners and directors and are considered as decision makers at their firm.
News Alert Ads
Advertising in our daily and weekly email news alerts (FIN Daily and Nonprofit News) provides your firm with a unique opportunity to have your message seen by thousands of decision makers within your direct audience. Your ad will be displayed prominently at the top of each newsletter, can be updated weekly and can include a custom URL.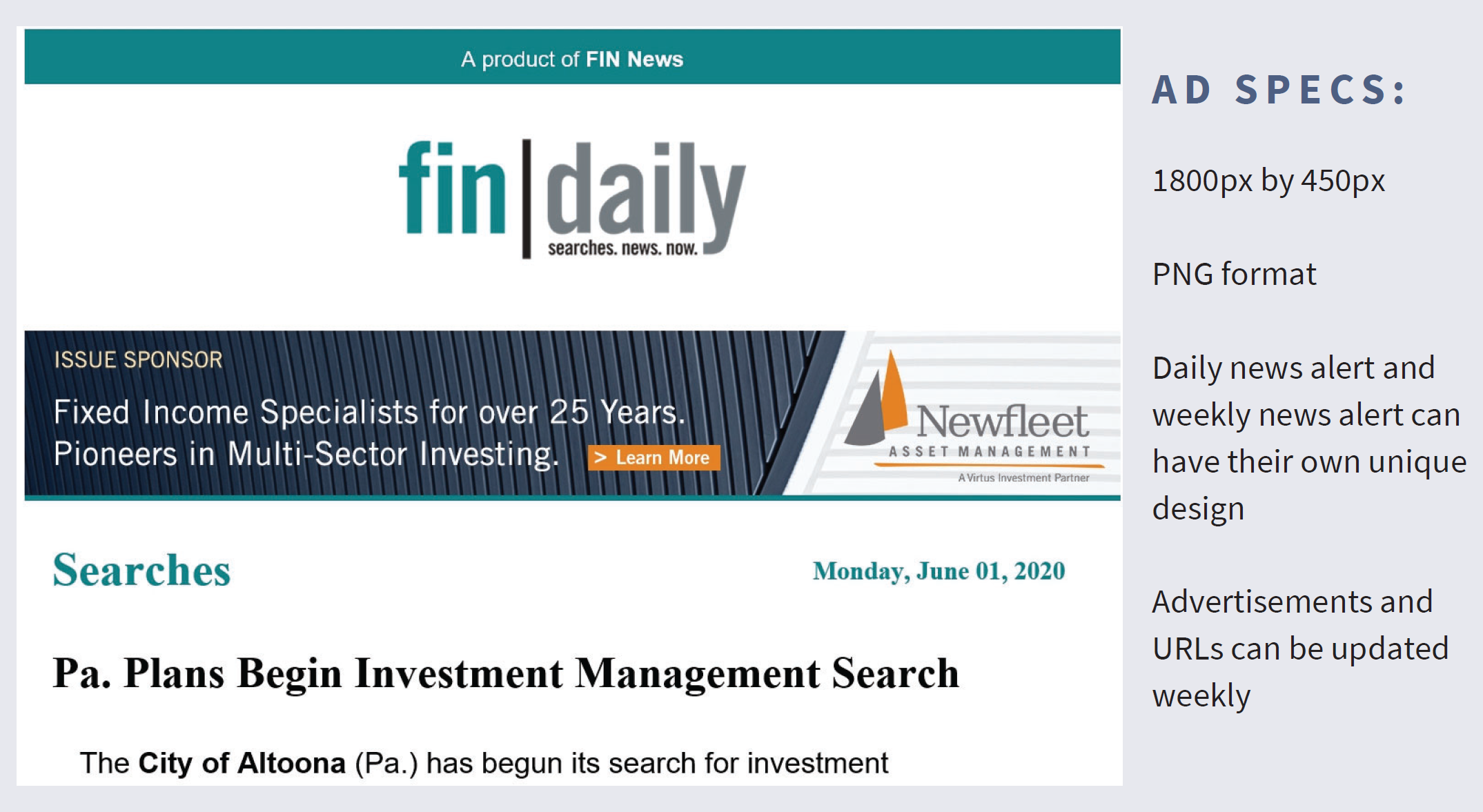 Who Will See Your Ad?
Each day our FIN Daily news alert is sent out to over 9,000 individuals within the institutional space, including over 2,200 plan sponsors and 700 consultant contacts. Our weekly Nonprofit News alert is sent out to over 11,000 individuals including over 4,000 nonprofit plan sponsors.
On-Site Advertising
fin-news.com provides you with the best opportunity to reach key executives and decision-makers in the institutional space. Your ads will be displayed prominently across web, tablet and mobile on our highest trafficking pages; including home page, post pages and sections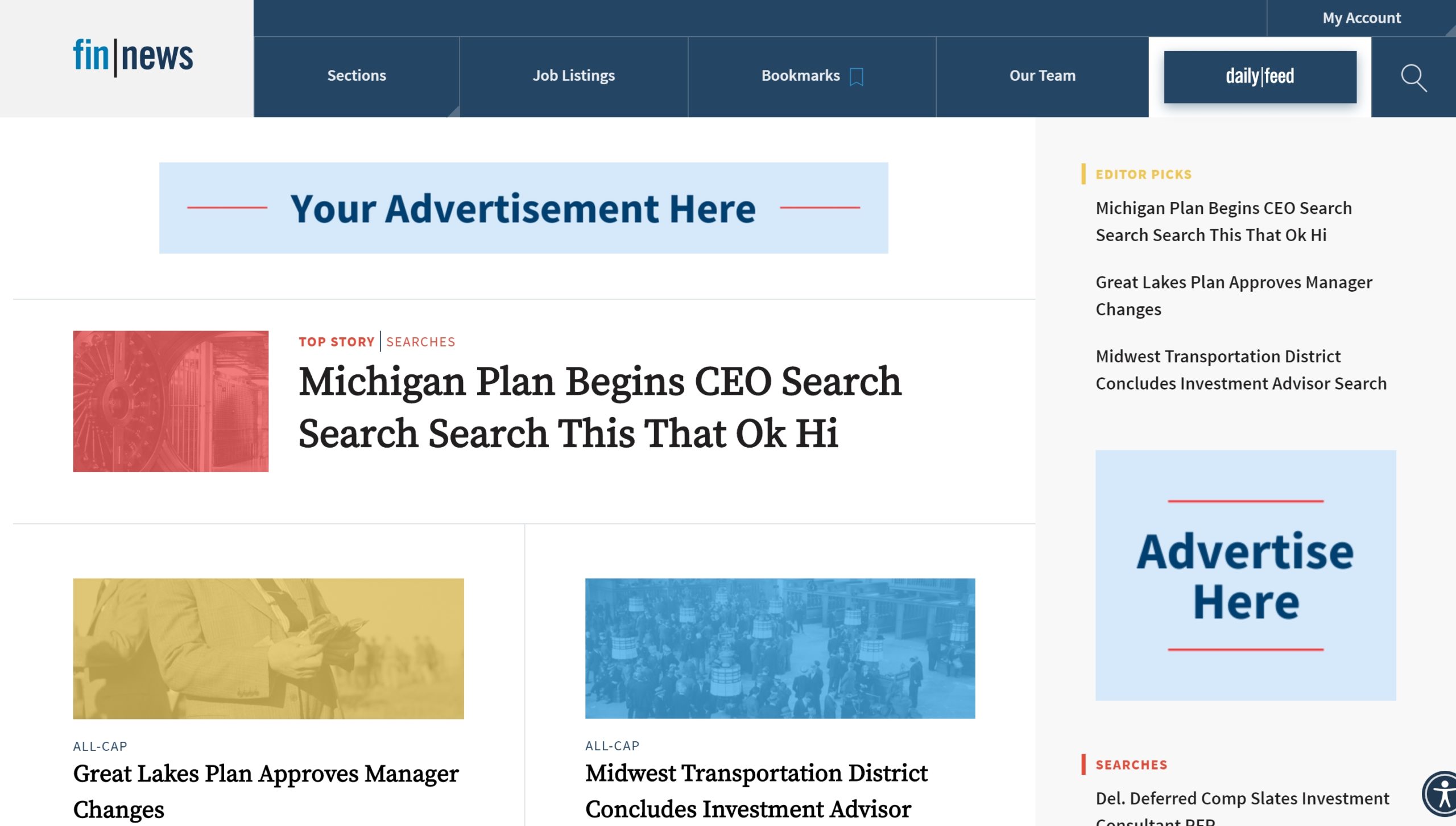 For website analytics statistics including site views, page views, unique visitors and average time spent on site contact us at [email protected] or 212-627-7615.
Ad Rates
Cost Per Month
Banner Ad (All Pages)
Right Side Rectangle Ad (All Pages)
Banner Ad & Right Side Ad (All Pages)
Ad Specifications
*Please send ads in high resolution JPG, PNG, or PDF format. Limit ads to 500kb file size.
Contact Us
Additional Opportunities
In addition to News Alert and On-Site ads we also offer Sponsored Content and Reprints. To learn more about these opportunities, please refer to our ad kit available here or contact us at [email protected].
Interested in hosting a webinar with us? Learn more here.